PO Box 87645
Tucson , AZ 85754-7645
(520) 401-0668
(520) 743-4881 (Fax)

Specializing in providing written and oral translation services in the following areas:
Marketing/Publishing
Law
Law Enforcement
Health/Medical
Social Services
Environment
Technical
Commercial/Business
Insurance
Localization
read more »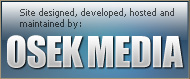 A LA CARTE Translations Professional Memberships

Get in touch with us today!
Contact us to get more information on what we can do for you. We will gladly answer any questions you...

Our Background.
Our company is located in Tucson, Arizona and has been in business since 1998. We have over 25 years of....